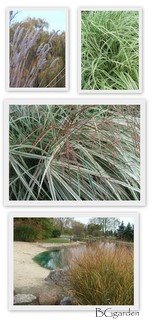 What a wonderful show.... and after looking at this collection of grasses on the left one can easily see that it was worth the wait. I know many gardeners in my neck of the woods who do major clean up in the garden in the late fall cutting back these wonderful grasses. I maybe one of the few who wait to do the time consuming job of cutting these blades back in the early spring after a wonderful show in the fall and winter.
The past few days have been a wonderful reminder that Spring is right around the corner. We have been enjoying some unseasonably warm weather and I have been able to spend most of my time out doing some early spring cleaning. Today was the last of the warm up but I made the most of my time before the rain arrived. One of the major spring clean up projects is cutting back the large ornamental grasses around the pond and hauling them out to the burn pile. Today I had a few helpers including a lazy kitty who decided to take a nap in my golf cart with the dried grass.
I had to share these photos of the deep pink in one of my favorite ground cover
sedum
plants. LOVE IT!!!! can't wait till she steals the show in this rock bed up in the front garden.
INEXPENSIVE GARDENING NOTE:
I was able to get a few more flats of seeds started in the mornings waiting for the temperature warm up to the low 60's. One of the CHEAP gardening tips I wanted to share with you is recycling markers. One of my cheats is to break off the ends of plastic knifes to fit into the covered flat boxes. In pots or right in the ground you can use the knifes without breaking them off. A box of generic plastic ware is about a 1/3 of the price of garden markers.
Not sure what I will complete in the garden tomorrow while the weather is suppose to turn cold. I do hope to finish up on the indoor seed starting. There is always plenty to complete in the garden to prepare for a successful season. I am just super happy that I got the grass seed in the ground before the rain arrived today.